***SEASTYLE DIVING TO CLOSE***


Elwyn is retiring. Our last trading day will be Sunday 31st October 2021.


During OCTOBER we are holding a massive closing down sale and no reasonable offer will be refused.
We will not be accepting equipment for test or service from the week commencing 18th October 2021.
All customers that have equipment in for test & service have until 3pm on Sunday 31st October to collect before we will close our doors for the final time.
Seastyle Diving an all round dive shop based in Worcester. Offering sales and service. We have been operating for over 40 years, so you can be assured of the highest standards of scuba equipment service and cylinder testing. With our experienced onsite technician, your equipment could not be in better hands.


Cylinder Testing.
Onsite Regulator and BC Servicing.
Air refills to 300Bar.
Onsite Dry Suit Repairs.
Dive Computer Battery Changes.
Seastyle Diving work with all major training agencies including PADI, TDI, SDI and SSI.

Leaning should be fun and immersive, using the most up to date teaching skills and ensuring your course is the right fit for YOU this leaves all our time to focus on you and the water work, ensuring you are the confident and comfortable scuba diver.
Starting from the Open Water Diver Course and beyond.
---
Apeks 60m Lifeline Spool £78.00 SAVE 20% Discount will be applied at checkout.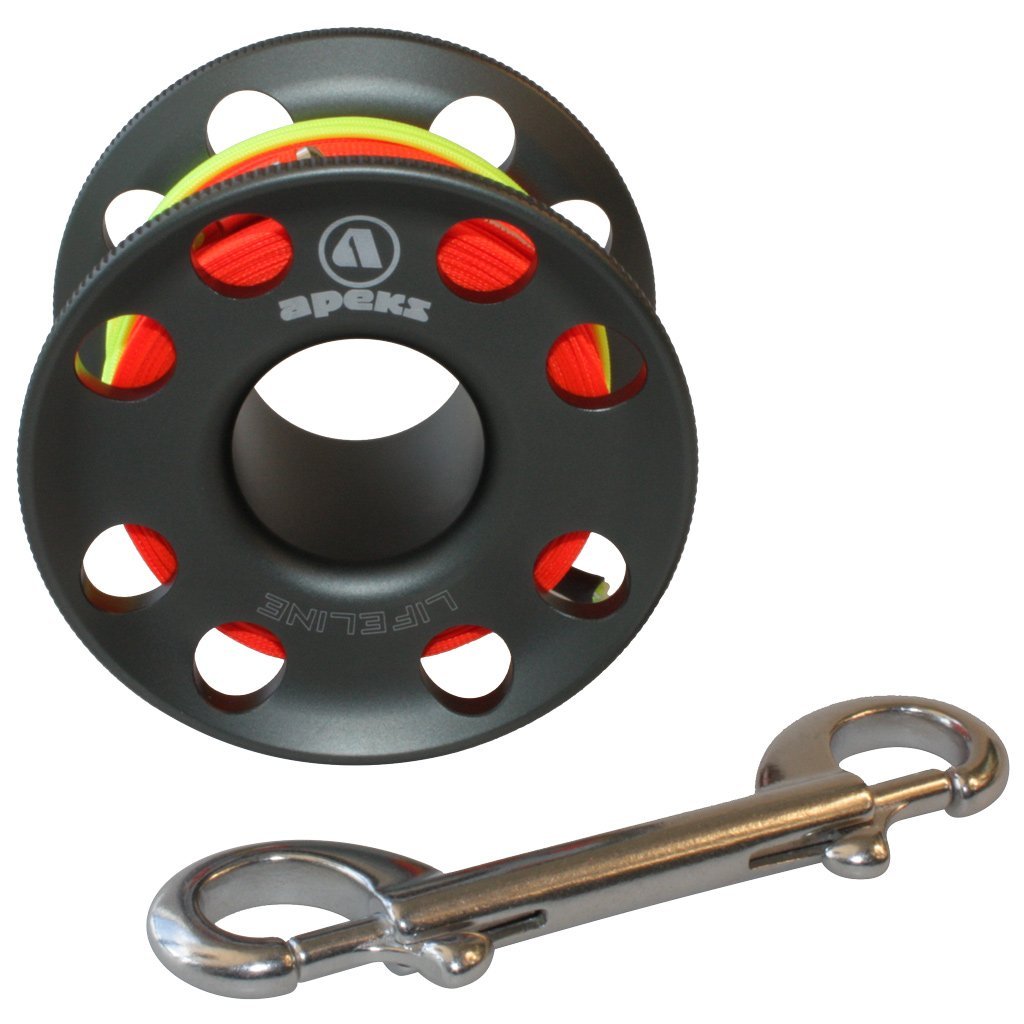 The Apeks 60m Lifeline Spool is the ideal choice for divers who need the easiest handling spool available, made from a single piece of aluminium for super high strength and durability.

Apeks 60m Spool features:
Flared design
Outer grip
Large diameter centre hole
Machined from a single piece of aluminium
Hard anodized
Highly visible line
Includes stainless steel bolt snap
Designed and made in the UK
Postage £3.95 (UK Mainland only)
            BUY NOW
---
Apeks 45m Lifeline Spool £70.00 SAVE 20% Discount will be applied at checkout.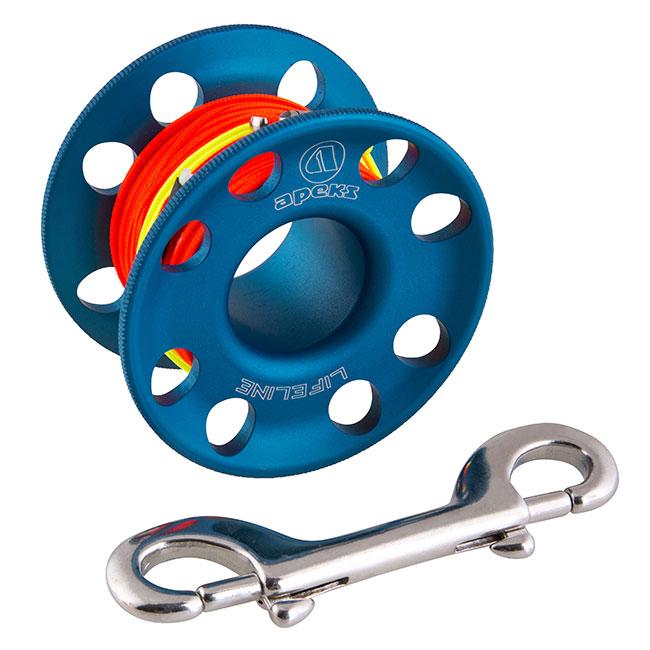 The Apeks 45m Spool is the ideal choice for divers who need the easiest handling spool available, made from a single piece of aluminium for super high strength and durability.

Apeks 45m Spool features:

Flared design
Outer grip
Large diameter centre hole
Machined from a single piece of aluminium
Hard anodized
Highly visible line
Includes stainless steel bolt snap
Designed and made in the UK
Postage £3.95 (UK Mainland only)
---
AQUA LUNG i200c Dive Computer £275.00 SAVE 20% Discount will be applied at checkout.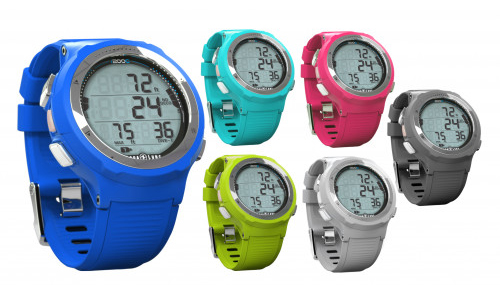 The Aqua Lung i200C Dive Computer is a stylish watch size dive computer with an easy to read LCD segment display, Bluetooth connectivity and colour matching housing and strap.
With its fresh design, you'll find yourself wearing the i200C as an everyday sports watch that is ready to dive when you are. The computer features four operating modes (Air, Nitrox, Gauge, and Free Dive), a user-changeable battery, as well as no restriction switching between Free & Dive modes.
The i200C can be easily connected to the free Diverlog+ app to digitally log your dives and manage computer settings. The app allows you to wirelessly manage your dive data and settings from your smart device and share your memories, stats, photos, and location on social media.
What's in the box:
Digital Instruction Manual
Safety Reference info
DiverLog+ brochure
Quick Reference card
Lens Protector
Note: The i200C has a stopwatch function, but please be aware that in order to use the feature you must wait a few seconds after switching to stopwatch before you can start it. Attempting to start the stopwatch without pausing for those few seconds will prevent the stopwatch from starting.
Postage £3.95
---
Deepblu COSMIQ+ Dive Computer £299.00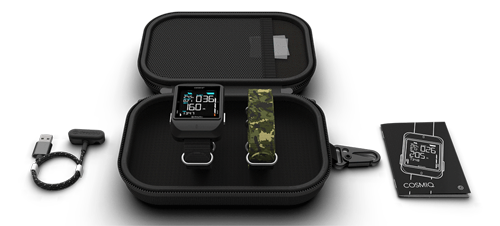 The Deepblu COSMIQ+ is a compact smartwatch size dive computer with super high contrast and bright 2.2" full-colour LCD screen. It offers multiple modes including Scuba, Freediving, Bottom Timer and Watch mode. A dedicated Deepblu smart device app allows easy synchronisation of your dive data via Bluetooth, allowing you to effortlessly create an interactive dive log and re-experience your dive after surfacing.
Modes:
Scuba Mode measures and displays all vital dive data and performs decompression calculations for Standard Air and Nitrox dives.
Bottom Timer Mode is an advanced gauge that measures current depth, average depth, continuous dive time and stage time. Average depth and stage time can both be reset with the press of a button.
Freedive Mode is designed specifically for freediving and includes a built-in surface interval function as well as adjustable alarms for depth and time.
The COSMIQ+ supports nitrox diving with the oxygen levels adjustable between 21% and 40%. Decompression information is based on the calculations of the Bühlmann ZHL-16C model with three user-selectable Safety Factor settings: Conservative, Normal and Progressive. There is also a Dive Plan function which allows divers to plan out dives in advance, taking into consideration residual nitrogen levels between dives.
The COSMIQ+ is powered by a rechargeable lithium-ion battery which is charged using the magnetic USB dock/connector which means you can recharge anywhere you can plug in a USB cable.
Bluetooth 4.0 technology and a comprehensive mobile dive logging application allow the COSMIQ+ to connect wirelessly to your smartphone or tablet to upload your dive data or install new firmware updates. Deepblu's digital dive logs breathe new life into the old-fashioned logbook by enriching them with your photos, videos and story. Using time data embedded in your photos and videos, the app will pinpoint each visual on the timeline of your dive, creating a visually attractive dive log to share online. Add a story, tag your buddies, and have your instructors validate them online.
All COSMIQ+ users enjoy free, over-the-air (OTA) firmware updates, which add useful features to your COSMIQ and improve the user experience. When such updates are available, they will be installed wirelessly onto your COSMIQ+ through the Deepblu app. The most recent update added live weather and dive conditions, planning and sorting options.
What's Included:
COSMIQ+ Base Unit
NATO Wrist Strap - One solid colour and one camo variant
Dry Suit Bungee Cord
Charging Cable
Anti-Glare Screen Protector (2pcs)
Quick Start Guide
Carrying Case
Postage £3.95 (UK Mainland Only)
---
AQUA LUNG i450T BLACK DIVE COMPUTER £334.99 SAVE 20% Discount will be applied at checkout.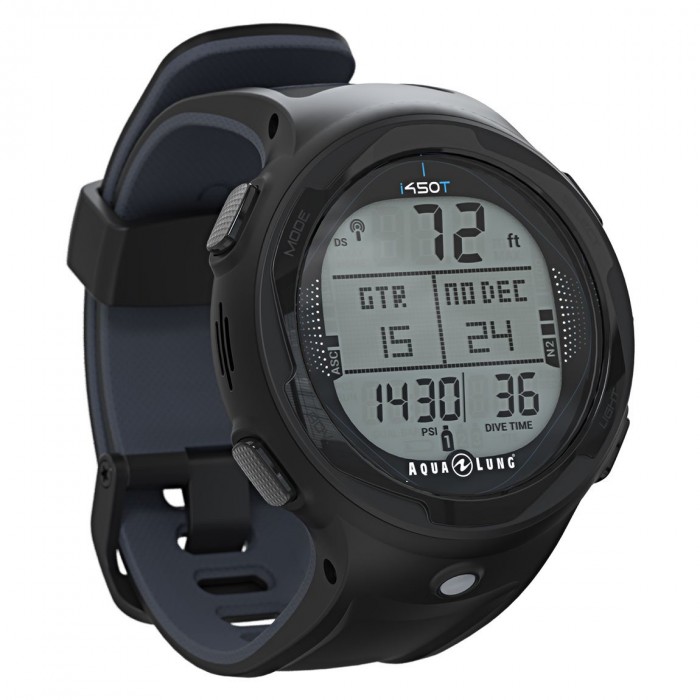 The Aqua Lung i450T Black Dive Computer & Wireless Transmitter (optional) is a features powerhouse that suits a world of diverse diving adventures. Intuitive and sporty, it's the perfect wrist computer to take you to new places.
Designed for the active diver and the travel diver, the i450T has flexibility and intuition packed into an attractive design. Its features were crafted to be intuitive and easily navigated for an optimal dive experience.
Digital compass:
Features a North reference, return bearing lock, and declination adjustment
Free Dive mode: Manage your free diving with depth, bottom and surface times, dedicated free dive memory and more
Main Features:
Multiple gas capability manages up to 3 Nitrox mixes (with 3 transmitters), each with individual PO2 set points
Automatic altitude adjustment ensures an accurate profile
Advanced watch functions including alternate time zone, stopwatch, lap timer, daily alarm, and countdown timer
Durable PVD (Physical Vapor Deposition) finish is extremely durable and resistant to wear (Black/Grey version)
Pre-Dive planning feature allows a preview of planned dives to confirm no-decompression limits
Automatic Safety Stop Countdown displayed in minutes and seconds for clarity
User changeable battery, with a data retention feature that maintains settings and calculations between battery changes
User-updatable software gives access to the latest features and upgrades
Backlighting for easy reading in low light
Salt or fresh water dive selection
Optional deep stop with countdown timer
Simple to use with Diver Log software on the Mac or PC platforms, which allows control of all your dive computer settings, view Log and Profile data, add location, notes and other details, as well as store and share photos & videos. Diver Log must be purchased separately at ediverlog.com
Included in the Box:
Digital instruction manual
Paper Safety Reference
Diver Log brochure
Quick Reference card
Lens Protector
Download Cable
(Transmitter not included)

---
Great British Marine Animals by Paul Naylor 3rd Edition - £14.00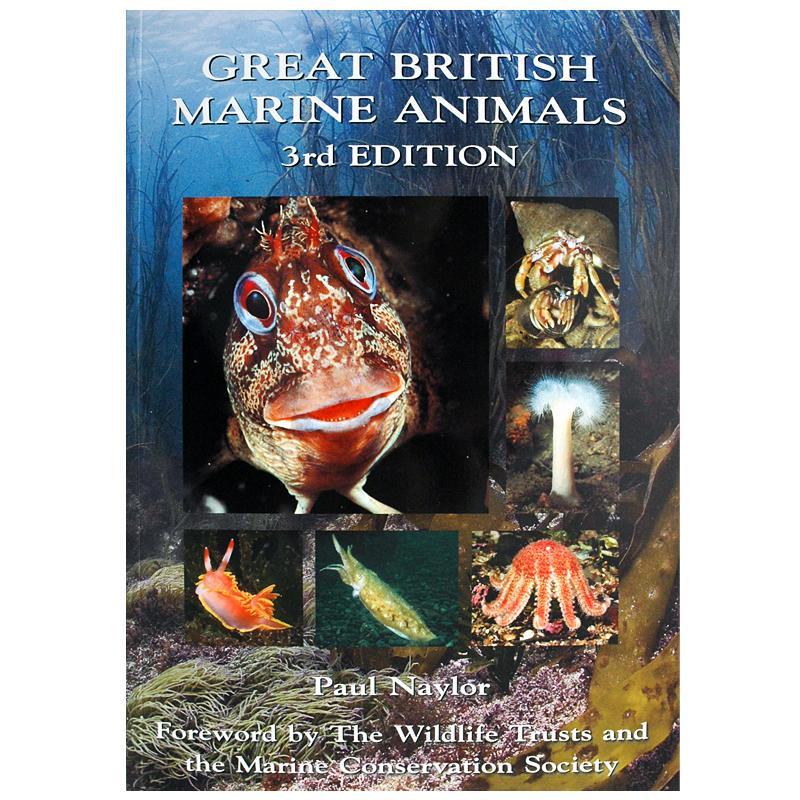 An excellent softback book, to help identify the marine life of the British coastline. With an additional 240 new photographs added to there are now over 600 colour photographs and 320 pages. This fabulous 3rd Edition should prove to be as informative as Paul's previous editions, containing stunning photography and a superb reference tool.
Designed to aid identification of the common marine animals of Great British seas, this book incorporates as much information as possible on how the animals go about their lives.
Many photos taken by Paul Naylor, on his many dive trips around the UK, including diving Cornwall with us at Undersea Adventures, all help the diver and snorkeller identify the creatures to be seen and learn a little of their life. Identify the Marine Life while Diving Cornwall.
Great British Marine Animals by Paul Naylor 3rd Edition Features
There are photographs showing how they feed, breed, avoid being eaten and interact with other creatures in different ways. A superb reference book we have frequently referred to, to help explain a little more about some of the marine life to be discovered particularly when diving Cornwall and snorkelling around Penzance, Mount's Bay, St.Ives, Lamorna Cove, Prussia Cove, Sennen Cove, Land's End.Paul holds a doctorate in Marine Biology and many of his photos have also been displayed at the National Marine Aquarium, Plymouth.
Poatage £3.95
---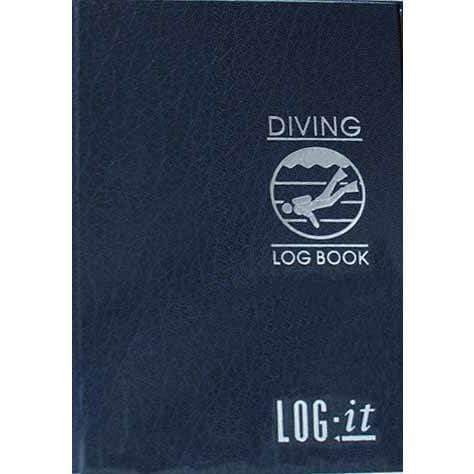 Divers logbook, stitched and glued for resilience and with a tough flexible cover, set out in a clear and logical format. Use this logbook and there is no return to its lesser rivals. LOG-it has been our best selling diving...

Postage £3.95
---
EDGE-X Camera System £349.95 SAVE 20% Discount will be applied at checkout.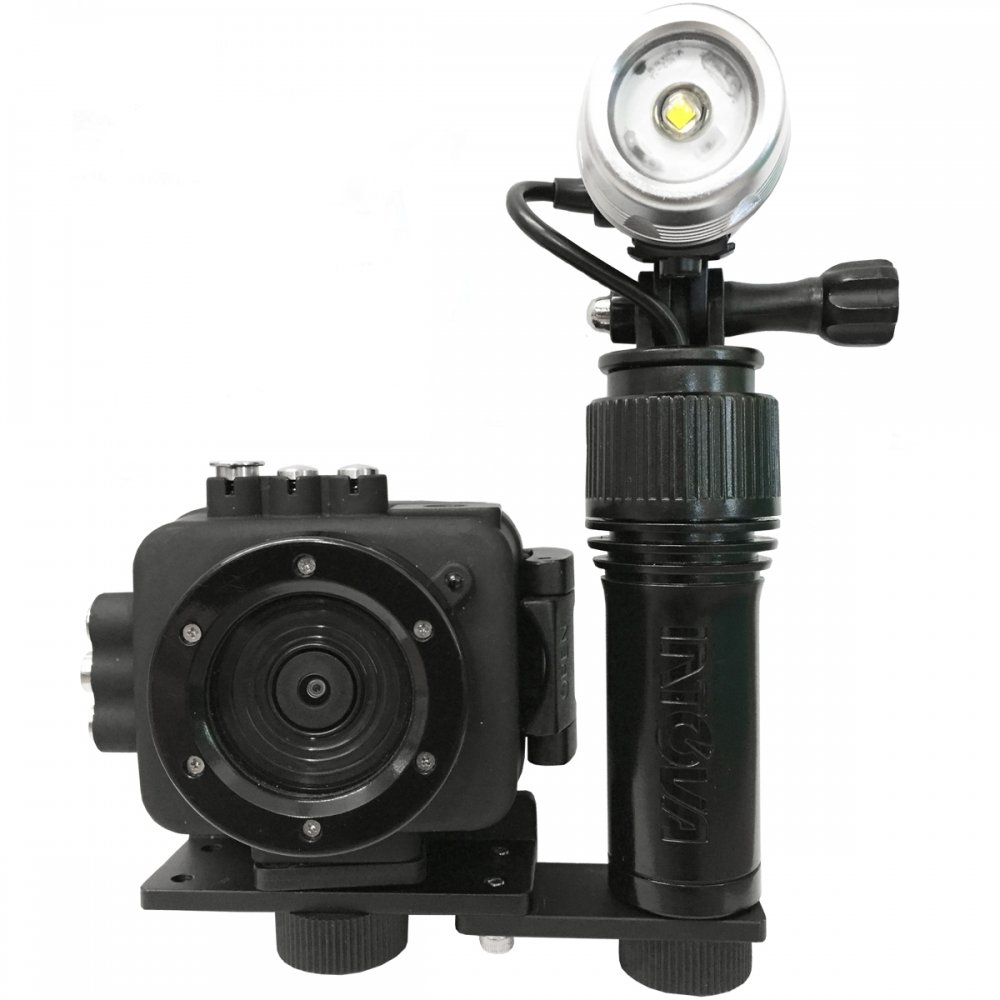 Intova's long history of producing waterproof action cameras culminates with EDGE X: a new standard in high qualityPoint of View (POV) models with unique features and top performance.

Compact and full featured, EDGE X offers 1080p High Definition video up to 60 frames per second with a 160 degree wide angle lens. This design allows the maximum view angle without the significant distortion found in wider lens angles.

Built in WiFi allows the user to operate and see what is on the viewfinder remotely on a laptop, tablet, or smart phone and also to enable wireless file transfer. EDGE X supports Micro SD card up to 64 GB (Class 10 required for 1080P HD video).

Intova's unique and patented Unibody design builds the electronics directly into the compact housing.
The housing is constructed of rugged polycarbonate with a rubberized armour coating.
The optically flat glass lens port has a water repellent and anti reflective coating.
Its flat design allows seamless operation above or below water. Waterproof to 60m, the housing includes buttons for full camera control in any environment.

EDGE X's high quality LCD screen acts as both a viewfinder and playback monitor. To save battery life, the LCD can be turned off when not in active use.

EDGE X utilizes a standard ¼" tripod thread to fit a wide range of Intova mount accessories.
Shooting hands-free video shouldn't be limited to just a few sports. Intova offers a full system of mounts (items sold separately), specifically tailored for a full range of activities and interests. From helmet mounts, handle bar mounts and tripod connections to ski, skate, motocross, and white water attachments.
Video Light
Brighten the world beneath the sea with this compact, lightweight, and ergonomic Intova Underwater H2O Man Action Video Light, which features a depth rating of 200'. It was designed especially for use with action cams like the GoPro and Intova's own Sport HD II but is well-suited to a broad array of video cameras. A CREE XM-L2 LED bulb outputs a maximum of 500 lumens at a 120° beam angle and has a low-power setting that outputs about 250 lumens. The light runs for approximately 2.0 hr on the high-power setting and 4.0 hr on low with the rechargeable 18650 battery.

The LED features thermal protection circuitry with an auto dim function to safeguard against overheating when the light is used above water. The H20 Man's durable polycarbonate battery casing doubles as a handgrip for ease of use and panning control. Additionally, a bracket with a standard tripod mount and GoPro adapter is supplied.
Light Performance
CREE XM-L2 LED bulb

Outputs a maximum of 500 lumens and has a low-power setting that outputs about 250 lumens

Beam is wide and even with a 120° angle of coverage, providing consistent lighting with no hot spots or edge rings

Runs for approximately 2.0 hr on the high-power setting and 4.0 hr on low with the rechargeable 18650 battery

Thermal protection circuitry with an auto dim function to safeguard against overheating when the light is used above water
Construction Details
Depth rating: 200'

Durable, corrosion-resistant polycarbonate battery casing doubles as a hand grip for ease of use and panning control
Mounting
Bracket with a standard tripod mount and GoPro adapter is supplied
---